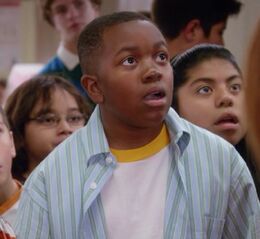 Andrew
is a kid who goes to
Abraham Lincoln Middle School
. He is a background character who appeared in the episode
Very Superstitious
. In this episode, he and a bunch of other kids were listening to
Scottie Pippen
. When. Scottie introduced some shoes and asked if anyone wanted to try them on, Andrew was stereotyped by the
Curly Haired Boy
, when he told Scottie that Andrew wanted to try them on. Shocked, Andrew then denied this. Andrew is a victim of the running racist stereotypes that get tossed around in Abraham Lincoln Middle School, saying that all black people like to wear pumps.
Ad blocker interference detected!
Wikia is a free-to-use site that makes money from advertising. We have a modified experience for viewers using ad blockers

Wikia is not accessible if you've made further modifications. Remove the custom ad blocker rule(s) and the page will load as expected.