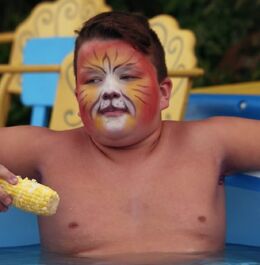 The
Fat Kid
is a character that appeared in the episode
The Shunning
. He is an obese little kid who eats a lot of food. When he appeared, he was wearing tiger face paint and eating corn on the cob in the swimming pool. He said that he knows he should wait before he goes in the pool after eating, but his solution to the problem was never going in the pool. His name has not been revealed.
Personality
The fat kid is a funny person who is obsessed with eating food. He is so obsessed with it, that he puts the priorities of eating food before anything. He also acts very cool and nonchalant about everything.
Ad blocker interference detected!
Wikia is a free-to-use site that makes money from advertising. We have a modified experience for viewers using ad blockers

Wikia is not accessible if you've made further modifications. Remove the custom ad blocker rule(s) and the page will load as expected.