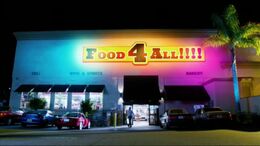 Food4All!!!! is an American grocery store in Fresh off the Boat. Jessica dislikes the store believing it emphasizes American food and does not qualify as a suitable alternative to her native Taiwanese markets, given they emphasize Lunchables a lot more than Taiwanese cuisine such as Ta-a noodles, Ba-wan or minced pork rice.
Lunchables are one of, if not the best selling item at Food 4 ALL!!!!!. Lunchables were so popular back in 1995 Orlando, Florida that hundreds were offered in just one section of an entire aisle. One female employee also offered Jessica some free sample guacamole nachos.
Episode Appearances
Ad blocker interference detected!
Wikia is a free-to-use site that makes money from advertising. We have a modified experience for viewers using ad blockers

Wikia is not accessible if you've made further modifications. Remove the custom ad blocker rule(s) and the page will load as expected.