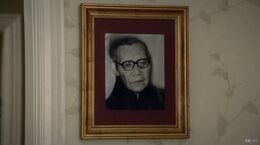 Grandpa
is the grandpa of the Huang family. He never appeared on the show because he either split up from his wife Jenny or he passed away some time ago, and he was Louis' father. He was mentioned in the episode
Fajita Man
. Louis described him as someone who had to work very hard as a child and worked him hard in return as an adult. He was also shown to not have been very happy ever, and that the picture of him was himself at his happiest.
Eddie's demands for $50 for a new video game is what drove Louis to decide that he needed to be as strict to Eddie as Grandpa was on him. Louis then keeps making hyperboles that Grandpa had 3 kids at Eddie's age, his ear melted off, he sold bread hot enough to give him third-degree burns and he only got an egg for his birthday before later on stating "As I say that I realize I'm exaggerating, but it could have happened".
His surviving wife Jenny does not miss him, at least not entirely. Jenny then told Louis to remember that despite Grandpa being a hard worker, he was still a cruel and unthankful man who wasn't very kind to others. This caused Louis to realize that being miserable and exhausted from work doesn't give you the right to lash out at people.
Episode Appearances
Ad blocker interference detected!
Wikia is a free-to-use site that makes money from advertising. We have a modified experience for viewers using ad blockers

Wikia is not accessible if you've made further modifications. Remove the custom ad blocker rule(s) and the page will load as expected.