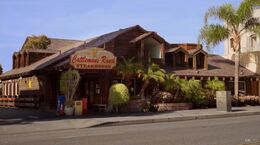 Louis
Huang's
Cattleman's Ranch Steakhouse
is an all-American restaurant founded by Louis Huang and located at 11670 International Dr. (S1E7). He opened Cattleman's Ranch at a cost of $50,000. He made the restaurant because he really liked the American culture and he thought this was a productive way to express it. At the start when business was slow, Louis was always very optimistic for Cattleman's Ranch to be a success and right fully so it did become a success. Louis constantly promotes Cattleman's Ranch, even in unfortunate or inappropriate circumstances. 
Food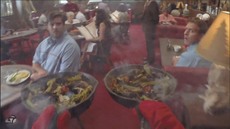 The restaurant, as indicated in its name, serves steaks as well as a salad bar, soups, barbequed or pan-grilled meats such as ribs, and fajitas as shown in "Fajita Man". Birthday cake, bread baskets and red wine were seen in "Home Sweet Home-School". Onion blossoms were mentioned in "Pilot".
Business status
In Pilot , the restaurant didn't start off successful. The few customers who did come tried to be served as cheaply as possible such as by drinking water (which is free) instead of sodas or beers. Business was so minuscule that Louis could only expect 1 or 2 people each hour (if not day) and Jessica was furious about this, which prompted Louis to make a local commercial.  
In Home Sweet Home-School, the restaurant was still in recession losing profits which made Jessica cut down use of napkins, croutons and electricity. In Persistent Romeo, the restaurant has now very much improved in attendance reaching a record high where customers actually had to wait for tables to be available, exciting Louis that now a waiting list has been set up.  
Employees
Temporary
Advertising
Local Commercial
Billboard
Coupons
Episode Appearances