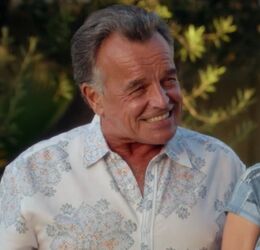 Marvin
is
Honey's
husband and the next door neighbor of the Huang family. His daughter
Nichole
loves him and her feelings for him are basically the opposite of her feelings for her mom. This is because Honey is not actually her real mom. Marvin's ex-wife,
Sarah
is and Marvin divorced her and remarried Honey. He is portrayed by Ray Wise.
Biography
Marvin first appeared in the episode The Shunning. He was at the party event with Honey, watching the Nascar races with Grandma. When Nichole came back, she was shown to treat him with way more respect than she did for her mom, treating him like the idyllic daughter would to her father, while shunning her mom with the most blatant hatred she cared enough to give.
In the episode Boy II Man, because nothing satisfies Marvin more than making his daughter happy, Honey claims that Marvin spoils his daughter Nichole and won't help Honey at all in controlling Nichole. As such, Marvin allows Nichole to watch TV in favor of doing homework and lets Nichole steal from Honey's wallet in addition to how much allowance Marvin gives Nichole.
In the episode The Real Santa, Marvin was dressed as the Mall Santa. Jessica gave him scientific lectures that Santa exists and told him to say it to Evan, when talking to him about it. This was so that Marvin can help Jessica carry out the rumors and lies she makes to Evan that Santa is Chinese and incredibly intelligent and skilled in physics.
In the episode Love and Loopholes, Marvin played a game of "Dare or Dare" with Evan and Emery. He told Evan a secret he never told Honey, that before he was married to Sarah, he was married to another woman named Lucinda.
Despite that he is usually friendly with the main cast (particularly Louis), he takes a rather antagonistic role in Doing it Right, where he and Louis become chili competitors and they both are immediately hostile to each other for the Chili Cook-Off trophy. Marvin is revealed to have won 5 times prior to the contest in the episode. In the middle of the episode, Marvin's methods of making his chilli shock and anger Honey for an off-screen reason. Later on, he is disqualified because it turns out he was using Burger King products (and always did) for his chilli, which counts as cheating because pre-cooked meat isn't allowed, and security kicked him out and confiscated all 5 of his trophies.
Season 3 revealed that Marvin is a dentist.
Trivia
Despite being married to Honey, he is much more older than Honey is. In real life, Ray Wise is 69 years old.
Episode Appearances
Ad blocker interference detected!
Wikia is a free-to-use site that makes money from advertising. We have a modified experience for viewers using ad blockers

Wikia is not accessible if you've made further modifications. Remove the custom ad blocker rule(s) and the page will load as expected.