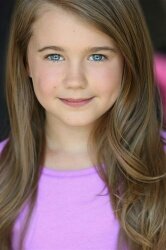 Natalie Coughlin
is the actress who played the one-time role of
Sarah S.
in ABC's comedy series
Fresh off the Boat
 in the episode
Good Morning Orlando
.
Biography
Natalie Alyssa Coughlin is a young actress from Southern California. She is the daughter of a retired Marine Infantry Officer and an Elementary School Teacher. She began her love of acting by watching her older sister perform in local theater. She quickly followed onto the stage beginning at 4 years old. Natalie's other love is gymnastics.
Ad blocker interference detected!
Wikia is a free-to-use site that makes money from advertising. We have a modified experience for viewers using ad blockers

Wikia is not accessible if you've made further modifications. Remove the custom ad blocker rule(s) and the page will load as expected.