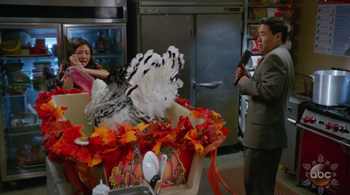 No Thanks-giving is the 5th episode of Season 3 of Fresh off the Boat.
Plot Synopsis
Jessica makes Louis work on Thanksgiving, but also do a turkey raffle which she wants to rig so that she ends up winning the raffle herself, much to Louis's chagrin.
Meanwhile, Eddie refuses to do anymore homework for the rest of the 8th grade, as he knows that colleges do not take middle school GPAs into account and only need high school GPAs. Jessica is angry about this and steals his bed to force him to do his "Family Tree" homework assignment. Eddie at first tries standing his ground and rebelling against Principal Hunter and Jessica's ways, but he loses sleep over the loss of his bed.
In the Turkey Raffle, Jessica assigns the winning ticket to Eddie but then Eddie starts getting sleepy when the raffle drawing begins, reducing Jessica's chances of winning from 100 to 0%. As a consequence, a randomly selected customer wins the turkey, but it's alive. She demands it cooked and ready to eat, forcing Louis and Jessica to take the turkey to the kitchen but Jessica finds the turkey too aggressive to kill. Realizing the error of her ways, Jessica decides to pardon the turkey, refund the raffle winner's money and give back Eddie's bed.
In the end, Eddie agrees to do his homework under the condition he gets to choose which family to do his family tree so that he can find some fun in doing his homework. Instead of his family, Eddie picks the N.W.A. about Dr. Dre, Eazy-E, Ice Cube, DJ Yella, DJ Pooh and Snoop Dogg. Jessica and Louis accepts this as Eddie having done his homework.
Characters
Trivia
Quotes
Ad blocker interference detected!
Wikia is a free-to-use site that makes money from advertising. We have a modified experience for viewers using ad blockers

Wikia is not accessible if you've made further modifications. Remove the custom ad blocker rule(s) and the page will load as expected.